Producer of one of the best white wines of Burgundy
Domaine Sève produces great Burgundy white wines such as Pouilly-Fuissé and Mâcon-Solutré, from the Chardonnay grape variety. The clay-limestone soil of southern Burgundy gives birth to these great Burgundy white wines characterised by their minerality, their roundness and their elegance.
For lovers of Burgundy white wine
Attracted by racy Burgundy white wines? At Solutré-Pouilly near Mâcon, in an exceptional tourist location and the cradle of Chardonnay, our Pouilly-Fuissé wines will have your palate under their spell.
It will be a pleasure for us to initiate you in tasting our wines, telling the story of our family and how, since 1920, five generations of winemakers have developed our domain thanks to their savoir-faire. Come and share our passion!
After the tasting, you will discover our village and the Rock of Solutré, in a protected environment classified a Grand Site de France.
In sharing our Pouilly-Fuissé wines with family or friends, you will become the messengers for our Burgundy white wines, our history and our passion.
Pouilly-Fuissé, Mâcon-Solutré
Burgundy white wines for all occasions
The white wines of Burgundy – Our Pouilly-Fuissé, Mâcon-Solutré – will accompany both the most refined and simplest of your meals, your aperitifs among friends or your banquets…
Our Burgundy white wines will know how to find their way from the least trained to the most sharpened palate.
Our 4 cuvées of Pouilly-Fuissé display a wide range of aromas typical of Burgundy white wines: minerality, notes of almond, hazelnut, scents of citrus, white fruits, tastes of brioche and honey… Different styles will allow you to appreciate one or other of our cuvées.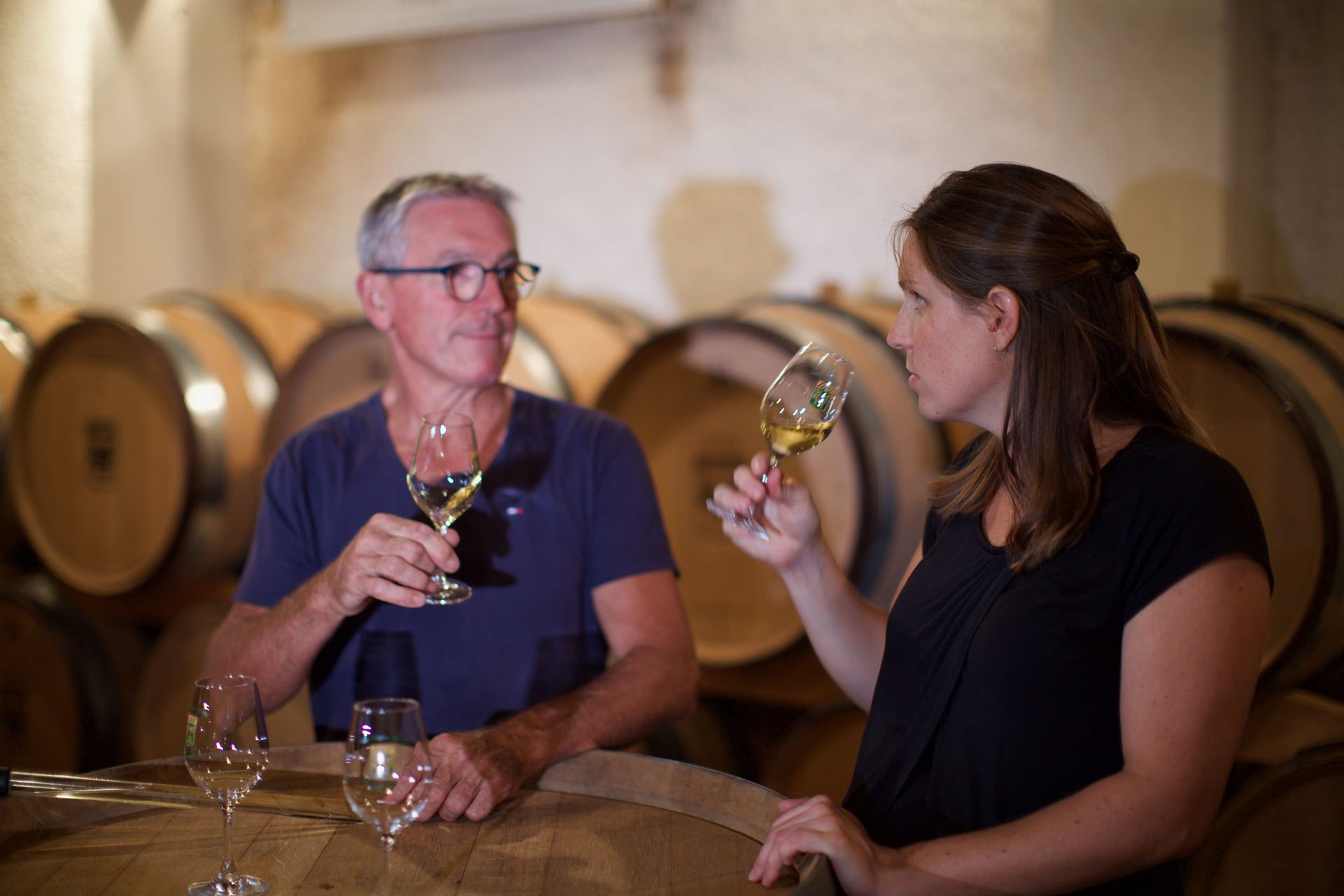 POUILLY-FUISSÉ AND MÂCON-SOLUTRÉ
Why Pouilly-Fuissé is one of the Burgundy white wines best loved by French people
This great Burgundy white wine with its multiple facets reveals itself immediately as elegant and generous. Beyond its opulence, its structure is straight-lined, enhanced by beautiful natural richness. The Pouilly-Fuissé appellation,a synonym of finesse and distinction.
Burgundy white wines,more especially Pouilly-Fuissé, go perfectly well with grilled fish, white meats, veal, Burgundy snails, pan-fried foie gras, shellfish, goat cheese. And… it can equally be enjoyed as an aperitif!
At the foot of the Rock of Solutré
We hope that you will become the messengers for the white wines of Burgundy, our history, our passion, when you share our Pouilly-Fuissé with those around you!